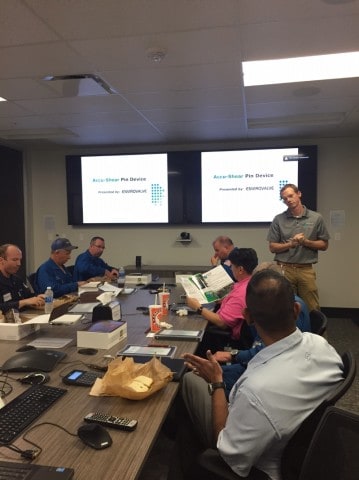 27 Oct

LYONDELLBASELL LUNCH AND LEARN
Thursday, 27 October 2016
Tuesday Oct 25th Curtis and I traveled to Houston for a lunch and learn with LyondellBasell at their brand new Houston Engineering Center, which is a beautiful place inside and out!
The day started at 4:40 am when I picked up Curtis to head to the airport, I am not sure how you readers feel about 4:40 in the morning but I "am not a fan". We did however have some amazing bagel breakfast sandwiches at the Tulsa International Airport and some coffee that would have burned your tongue off even if I let it sit until we returned from Houston.
We boarded our United flight at 6:30 am, the plane was very spacious and new and the weather was perfect…smooth sailing! Check out the view, talk about a sunrise view!
Like I said the plane was very new and offered in flight Wifi, I did not want to pay for it and did not have the United App so I could only visit their site. It was neat though because it showed you in real time the map of where you are and how much time you have left! (See my screen shot.)We arrived to Houston on time and picked up our SWEET rental car! It was similar to driving a "go-cart" but got AWESOME gas mileage!!!
We arrived about an hour early for our 11 am lunch and learn at LyondellBasell, I forgot to take a pic (so thanks Google Earth).
We couldn't take many pictures inside, but we had around 17 people hear our lunch and learn presentation. Curtis did a great job presenting and answering questions. We appreciate all the attendees taking time out of their day to hear more about the Accu-Shear pressure relief device.
If you would like us to come and present a lunch and learn for you and your team, please contact me Hanna Battenfield at hbattenfield@envirovalve.net or 918-872-7331, personally my favorite part of the lunch and learn was the "lunch" we catered Panera and it was very good (kidding the presentation was great as well)!
Our flight home left at 3:30 and was on a very very VERY small plane 3 seats wide and no Wifi (so sad)! Again, weather was great and flight was fast and smooth!
If you would like more information on Envirovalve or the Accu-Shear pressure relief device please visit www.envirovalve.net.
Thanks for reading!
Hanna Battenfield
Marketing Manager